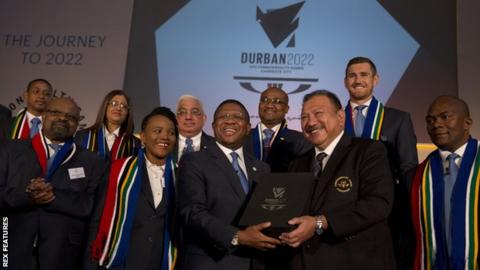 The 2022 Commonwealth Games will no longer take place in Durban, South Africa, the BBC understands.
It is believed the city did not meet the criteria set by the Commonwealth Games Federation and an announcement is expected later on Monday.
Durban was awarded the Games in 2015 as the only city to make a confirmed bid and it was to have been the first African host of the event.
Liverpool has expressed an interest in staging the 2022 edition.
The Games first took place in 1930 and are held every four years, featuring athletes from more than 50 countries, mostly former British colonies.
Last month, the South African sports minister Fikile Mbalula indicated the city may not be able to host the event because of financial constraints.
"We gave it our best shot but we can't go beyond. If the country says we don't have this money, we can't," he said.
Louise Martin CBE, president of the Commonwealth Games Federation, said: "The CGF is actively exploring alternative options, including a potential replacement host.
"The CGF will continue to have an open dialogue with the South African Sports Confederation and Olympic Committee (SASCOC) and the Republic of South Africa and remains committed to realising the shared ambitions of a future Commonwealth Games in Africa.
"The CGF is fully confident and committed to delivering a successful Commonwealth Games for athletes and fans in 2022."
A spokesperson for Liverpool city council said: "We had heard rumours that Durban might be unable to deliver the Commonwealth Games in 2022 and have already indicated to the government that we are very willing to host them instead."
Commonwealth Games: Durban will not host in 2022